Homeowner's Insurance
Protecting your home and the people who call it home
Most homeowner's policies provide coverage not only for your home but your home's contents, as well as other structures such as a garage or shed. But that doesn't mean all homeowner's policies are created equal. Most every homeowner's insurance policy has specific limits for certain personal items, such as jewelry, art, computer software, just to name a few. Most people don't know these limits and never find out…UNTIL there's a loss. That can be an expensive lesson!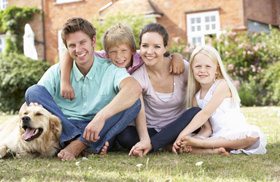 Another consideration: what if someone is hurt on your property? What if someone else's property is damaged while it's at your home? What if you accidently damage your neighbor's property? These are things that happen every day. A good homeowner's policy provides protection for all these possibilities.
The professionals at Athens Insurance Services know how to ask the right questions to determine your needs, ensuring you have adequate protection for EVERYTHING you own as well as any risks you may face as a homeowner. We believe the purpose of insurance is to restore you to the place you were before the loss or incident occurred, and we make sure you've got the coverage necessary to get the job done. Contact Athens Insurance Services and make sure you've got the coverage you need at the price you deserve.
We don't forget renters!
If you rent, don't make the same mistake so many have made by believing their landlord's insurance protected them from losses. Your landlord does have insurance... but it ONLY PROTECTS HIS PROPERTY! If you loose everything in an apartment fire or theft, your landlord's insurance will NOT cover your personal items. And suppose someone is hurt while visiting you? Again, your landlord's
insurance doesn't cover your liability. Athens Insurance Services can put together a renter's policy that protects the things you own and protects you against the risks you face. Contact us to learn more about renter's insurance.
Our coverage options include:

Homes
Rental properties
Townhomes / Apartments / Condos
Mobile Homes
Vacation Homes
New Home construction
Fire Policies / Flood Policies / Earthquake coverage
Jewelry, artwork and other additional riders for specific items
Multi-policy discount availability to save even MORE money!

Homeowner's Insurance Tips